Bruins

"He's going into the prime of his career."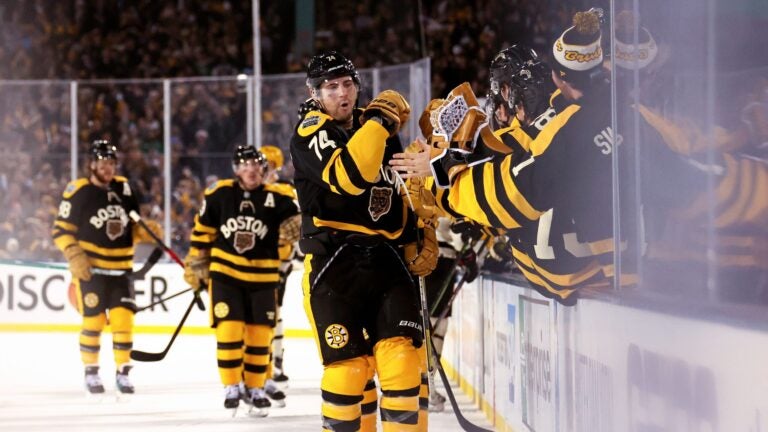 Jake DeBrusk is coming off of the best season of his career.
The fleet-footed winger has always been a productive player during his six years in Boston, tallying 119 goals and 226 points over 385 games in a black-and-gold sweater.
But the 2022-23 campaign saw DeBrusk evolve from a top-six passenger into an impact player in his own right.
Had he not missed six weeks due to a broken fibula during the 2023 Winter Classic, DeBrusk was on pace for 35 goals. Over his last 82 regular-season games (including the 2021-22), DeBrusk has potted 37 goals and 66 points.
Still just 26 years old, DeBrusk has established himself as a key cog for an evolving Bruins roster.
But given the talent drain that sapped Boston's forward corps over the summer, the Bruins need the affable forward to be more than just a goal-scoring spark plug in 2023-24.
"He's going into the prime of his career," Jim Montgomery said of DeBrusk on Thursday afternoon. "I think he's ready to be a go-to player and not a complementary player, but a player that drives the line.
"Him and I have spoken a lot about that. … He was really good for us for 90 percent of the games. With [Patrice] Bergeron, I could rely on 100 percent of the games. There's 10 percent that needs to be made up and he's got to carry a little bit of that weight. Not only him but a lot of others, but I think mentally he wants that and he's ready for it."
The bread and butter of DeBrusk's game lies in his straight-line speed and poised hand-eye capabilities. Already gifted with a knack for driving to the net, DeBrusk doles out most of his damage against defenses by way of Grade-A wrist shots, deflections and rebound tallies.
But DeBrusk's 0-to-60 acceleration can do more than put opposing blueliners on their heels during rush chances.
Stapled next to Bergeron and Brad Marchand last season, DeBrusk helped carve out fruitful O-zone shifts for his linemates by winning foot races to loose pucks and wreaking havoc on the forecheck.
That speed translated into shorthanded situations, where DeBrusk averaged 1:22 of ice time per game on the penalty kill.
Montgomery's musings haven't been lost on DeBrusk, who believes the key to consistency lies in utilizing his speed in all situations.
"I think it's not necessarily being selfish, but just focusing on what I can bring to the table every night and I think that with my speed, that's the biggest thing — where I can cause some chaos on the forecheck or just in general when it comes to rush plays," DeBrusk said. "I think it's one of those things that's one thing I'm looking to do more of.
"I agree with Monty. As the year went on, I felt that there were certain times where I was more confident or comfortable in doing those things and the only way you can get better as if you keep trying. You're gonna fail sometimes, but it's one of those things that when I'm playing well, it's what I just do naturally."
Without Bergeron and David Krejci in place, Montgomery and the Bruins will need to thrust both Charlie Coyle and Pavel Zacha into featured roles as Boston's new top-six centers.
Montgomery and the Bruins have regularly expressed confidence in both pivots as they begin the unenviable task of replacing two titans within the organization. 
But for as much as Boston believes both Coyle and Zacha can thrive under added reps, the Bruins will need to rely heavily on their top-six wings to help drive play and ease both centers into their new surroundings.
Sticking Zacha next to a 60-goal scorer in David Pastrnak stands as a sound avenue to unlock more offense out of the promising centerman.
But as Coyle looks to replace Bergeron on the top line, having an engaged and disruptive DeBrusk skating on the wing could make life much easier for the Weymouth native.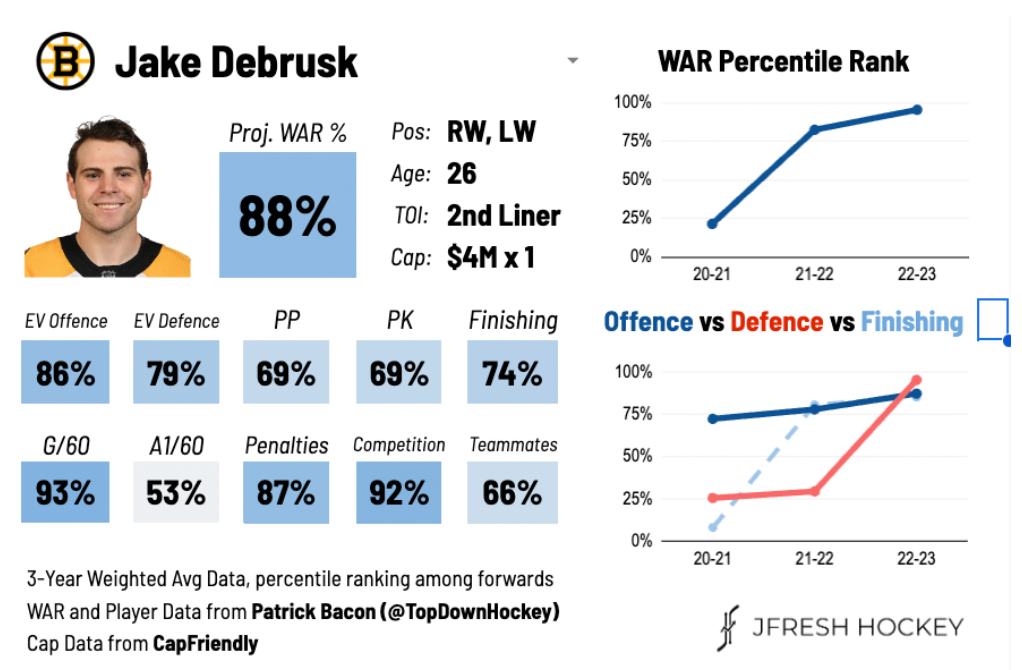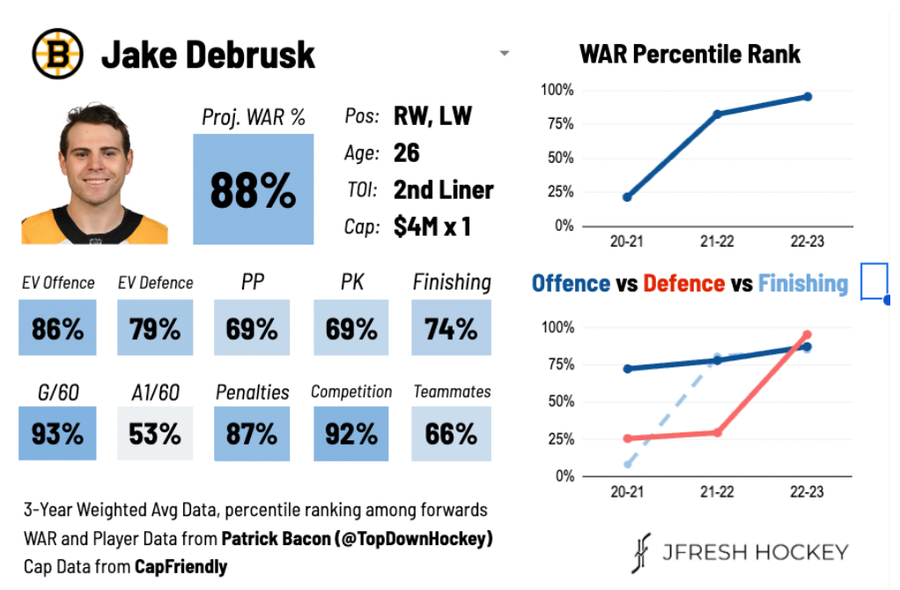 And with DeBrusk also looking to land a hefty new contract, any added production as a "go-to" player should benefit all parties during the 2023-24 season. 
"When it comes to contract talks, it's one of those things where you need two sides to tango, and whenever that happens, that happens," DeBrusk said of his pending free agency next summer. "But it's one of those things where it's not necessarily my main focus. 
"Obviously it's a big year for our team in general and I know that if I'm doing my part and having success with production and certain things, that will help our team. I think it goes hand in hand and it's one of those things that I'm just ready to get the season started. I'm excited for it."
Sign up for Bruins updates
Get breaking news and analysis delivered to your inbox during hockey season.